posted on June 13, 2019, 4:32 am
On Wed, 12 Jun 2019 21:37:49 -0400, Clare Snyder wrote:
Thanks Clare as I never mounted and balanced a tire so fast on purpose, not even taking time to clean the wheel or even remove the old weights until AFTER I put it on the static balance stand.
These tires are Lexani LXTR 203 model tires, of size P185/65R14 with load range 86 and speed range H (traction A, temperature A, and treadwear 500), where I don't know WHAT specific thing makes these so easy to balance, but they're so easy that something is very different.
I was surprised that I skipped a bunch of steps, and yet, the wheel
_still_
didn't cause any perceptible vibration, according to the driver, even as it's a front wheel drive vehicle with the tire being the driver side front tire.
I had told the owner to take it to Costco for the $5 wheel balancing, but that wasn't even necessary, even as I skipped a bunch of balancing steps.
The old tires on her car were model "Grand Prix" of size P185/65R14 load range 86 and speed of T (traction A, temperature B, and treadwear 500) which seem to be wearing on both edges, where here are the front two tires of this FWD vehicle with the tires set up in the appropriate position.
<
https://i.postimg.cc/JzvTyjKg/mount18.jpg
I had previously replaced her passenger front tire due to this gouge
<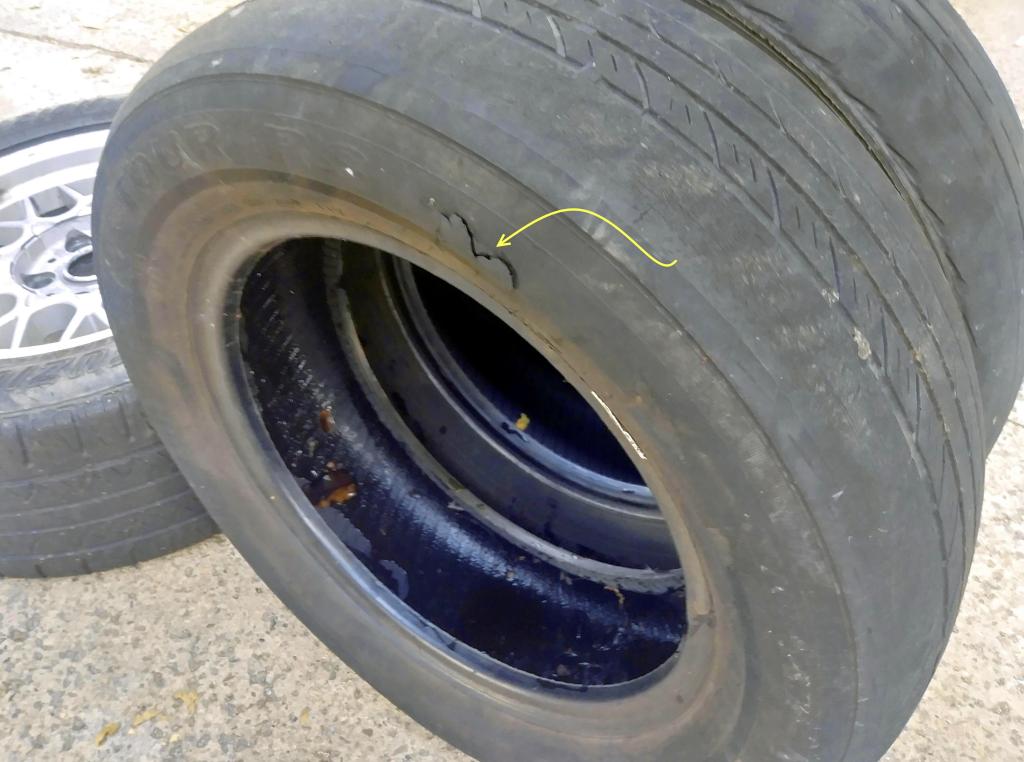 https://i.postimg.cc/4dTBPZDQ/mount19.jpg
Where the driver front tire wore into the steel belts which jutted out
<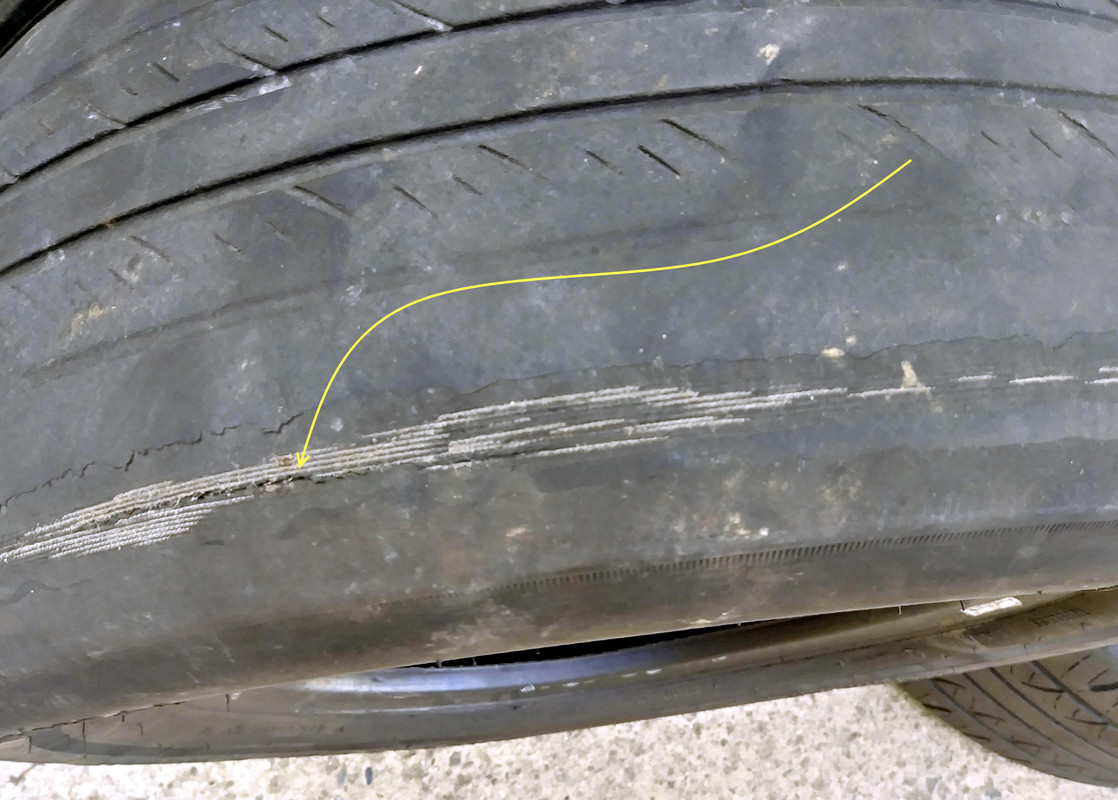 https://i.postimg.cc/85Bwn9DQ/mount20.jpg
She needed to be somewhere so I was in such a rush, that I didn't even
_see_
the yellow (weight) dot when I mounted the valve stem to the red (uniformity) dot:
<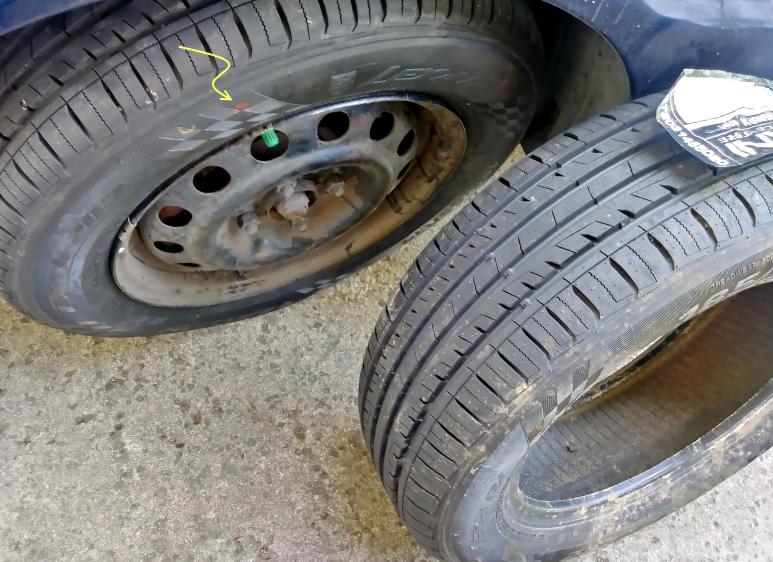 https://i.postimg.cc/7L8HPbtb/mount16.jpg
Where I only noticed the yellow dot when I looked at this picture!
<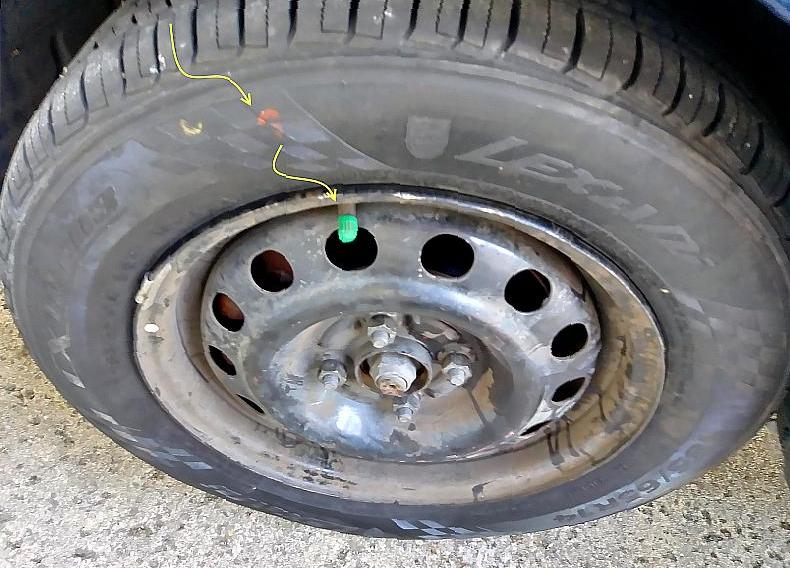 https://i.postimg.cc/kG1M7cLd/mount15.jpg
Back to how easy it was to statically balance these tires, not only did this tiny car have the only four-lug wheel I've ever worked on, but popping the first bead of this tiny 14-inch P185 tire was so simple that it took only a couple of pumps and about triple that to break the second bead.
Removing the third bead and fourth bead was, likewise, surprisingly simple. Popping on the fifth bead was almost entirely done by hand, it was that easy, where only the sixth bead took any effort whatsoever that required a force that any teenager could exert.
With two wheel weights already on the rim, and by match mounting the red dot (I didn't even
_see_
that yellow dot until I looked at the picture afterward), the balance was spot on in the middle of the bubble level.
So I didn't even remove the
_old_
wheel weights, which I normally would have done as part of the wheel prep after breaking the bead and removing the old tire. I didn't even replace the valve stem, as I recently used up the four valve stems I had bought after speaking to you about getting the bolt-in kind so I didn't have any available.
The tires have been waiting for her outside in the mud and rain, so I simply bounced and blew out the leaves and crud where I would have cleaned the tires more had I more time, where I might have noticed that yellow dot which was slightly worn away from being outside all winter.
Funny you mention the Hankook's where I just snapped this for you!
<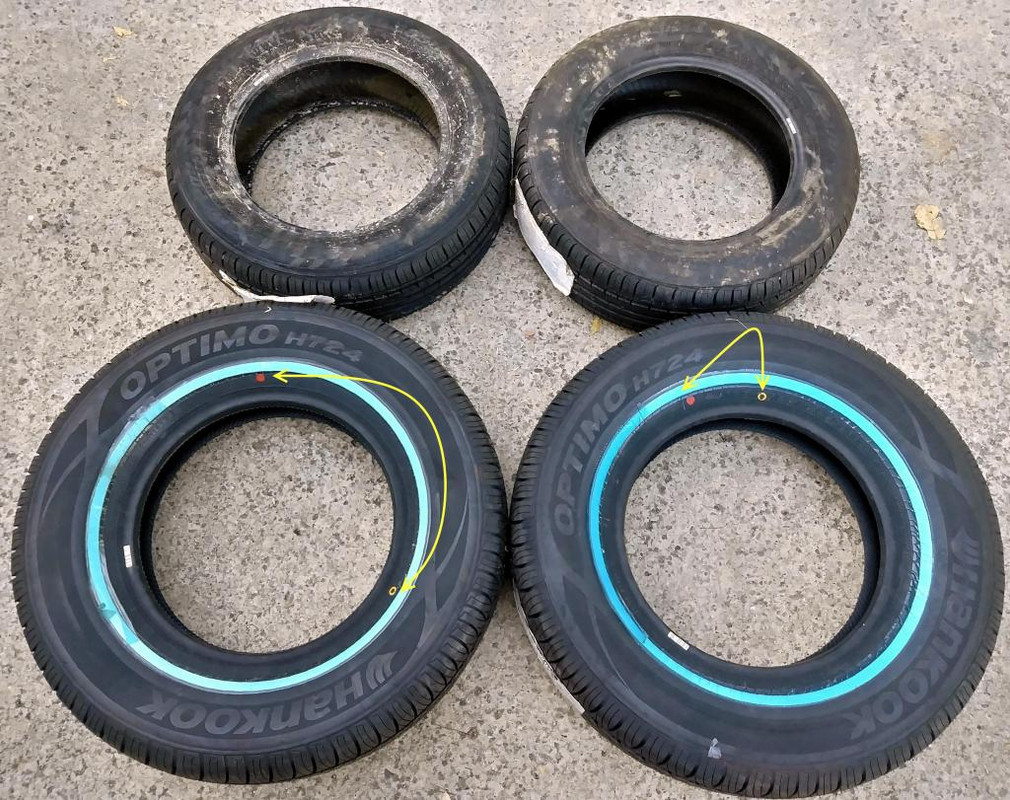 https://i.postimg.cc/zGVtXxwK/mount17.jpg
Those are Hancook Optimo H724 model tires of size P225/75R15, with the load range of 102 and speed range of S (traction A, temperature B, and treadwear 500), which were MUCH HARDER to mount and dismount and harder to balance too, it seems.
I'm planning on mounting and balancing them this weekend on an SUV which keeps wearing out the front tires which I have to get alignment tools to check the camber mostly since they're wearing on the outside edge.
When I mount those thick-sided Hancooks, on steel wheels, I will mount by the
_yellow_
(minimum weight) dot for the first time, instead of by the red (maximum runout) dot, as I recall you recommended for when there's no match mounting mark on the rims.
Thanks for being helpful where you're just about the only guy on this newsgroup who knows anything about this subject matter, which I greatly appreciate your advice, and where I try to remember it all over the years, where I'm starting to lose count of how many tires I've done in the past five years with the crappy Harbor Freight tools (they work, but they suck).