Some searching suggests that there are 4 O2 sensors on I4. It would appear it has a 4-2-1 manifold with separate sensors and cat for 1-4 and 2-3.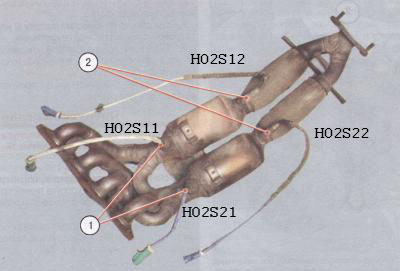 http://media.ffclub.ru/up32534-up189773_up35811iposti28i1259059563.jpg
Pre cat traces for O2S11 and O2S21 are not identical. These are the signals that control mixture. O2S12 and O2S22 are post cat to check cat function.
As you have a surfeit of O2 sensors swap them over and see if the fault moves.
**************************************************************
*
OK, been playing around a bit more today.
I realised this morning that the Live Data I obtained yesterday were without the Cat's being properly warmed up, so they may not have been Catting at all. So went out again after letting the engine warm up a while and took another set.
It wasn't a lot different, the output voltage on both post Cat sensors was mostly in the 0.80's. I understand a good Cat should have an output around the 0.5v mark.
Anyway, decided to do a proper Cat test by monitoring the engine temp and the Lambda sensors with the car stationary. Took a while to get the car coolant temp into the high ninety's, then got the engine to around 2,500 rpm and let it sit there.
Bank 1 Cat seemed to take quite a bit longer to "warm up" than Bank 2. (Bank 1 is the EML error code). I let the coolant temp rise some more and kept repeating the test. Eventually they both were pretty much the same, but neither would settle below 0.75v at a steady 2500 rpm.
Since both Cat sensors eventually read similar, I am thinking now the sensors are OK but both Cats are not working very well, bank 1 being somewhat slower to operate than bank 2, hence the bank 1 error code.
One odd thing I noticed though. I'd seen in my first set of live data the bank 2 Cat sensor sometimes appearing to drop out towards zero where the bank 1 did not. This led me to think it was faulty. Now, I believe that if you lift the throttle completely, no fuel is injected at all, so all 4 sensors drop to zero volts, but I noticed a couple of times that if you gently lift the throttle to off, sometimes bank 2 will go to zero but bank 1 won't, so there seems to be a condition that allows 2 cylinders to idle, and the other 2 to be cut off after a gentle lift off (??)
Looking back at my live data it does indeed appear that these "glitches" are indeed happening at throttle lift off. Unfortunately it was at this point that the Invertor I was using to run the laptop via the cigarette lighter socket blew up, I hadn't saved the live data to file and lost it all, so can't confirm this yet. (my laptop won't charge its battery so has to be on mains all the time)
Anyway, this is more for interest than anything else, and I am finding my new toy rather interesting. The Dongle I bought is actually a Ford F Super version, so talks to the Ford modules, as well as the generic OBD2 ones, so you get access to Airbags, ABS etc. I'm hoping I can have a look at the VVT system, which is playing up a bit, these two things may or may not be related.
Can't believe you can get all this Ford technology and free logging software for £12.50. http://www.ebay.co.uk/itm/Ford-USB-F-Super-OBD2-Interface-Scanner-Fault-Code-Reader-focus-mondeo-fiesta/172435993429?ssPageName=STRK%3AMEBIDX%3AIT&_trksid=p2057872.m2749.l2649
Cheers,
Gareth.