On Mon, 25 Mar 2013 14:55:02 -0400, Scott Dorsey wrote:
Ah, I see what you're talking about and I've circled them in this photo: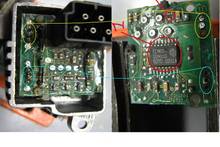 Like a good detective, you've seen something that I had not seen. What you said makes sense. However, I have never heard of anyone removing two transistors from that board. I wonder if those two sets of inline pins are just the connections to the heat sink?
Since I have an FSU in my possession, I will try to lift the board. The FSU that I have, DOES have two sets of these "spikes" sticking up at those very locations, so, clearly "something" is there.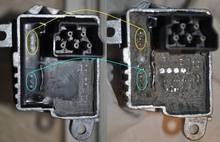 But, what puzzles me is that nobody has ever mentioned removing transistors from those two spots. Therefore, I suspect they're just anchor posts, since the solder is clearly removed in the autopsies.