Rudy wrote:
The eye is a state of charge indicator. Get a small automatic charger and charge the battery overnight. Do not use a "manual" charger. Make sure it is the kind of charger which shuts itself off when done. It is possible that your short trip regimen is not getting the battery fully charged back up. If the eye turns green after a full charge and the car is starting well then you probably do not need a new battery. An example charger is this one from Sears:
DieHard 10/2/50 amp. Automatic Battery Charger Sears item #02871222000 Mfr. model #71222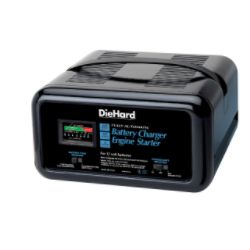 http://s7.sears.com/is/image/Sears/02871222000?rgn=0,0,640,640&scl=2.56&fmt=jpeg
Honda US sources it's batteries from Johnson Controls and the Japanese made Honda batteries I have seen say Panasonic on them. Interestingly enough, the green eye technology was an AC-Delco patented invention way back when, but I think Johnson bought the AC-Delco battery business from Delphi after GM kicked it's parts making division to the curb.